The iPad can be a very powerful tool for the special needs user, but deciding to buy one is not the end of the story. This handbook addresses not only why you should consider an iPad for your special needs user, but also which one to buy, the accessories that may be necessary for a special needs user—case, stylus, keyboards, switch access, Braille interfaces, wheelchair mounting and more—all with a particular focus on the special needs user. This book will also guide you through goal setting, basic and advanced set up options, finding apps and encouraging your user to interact with the iPad.
Learn more about the book including a full table of contents.

The book is now available online for FREE.
[row]
[column lg="6″ md="12″ sm="12″ xs="12″ ]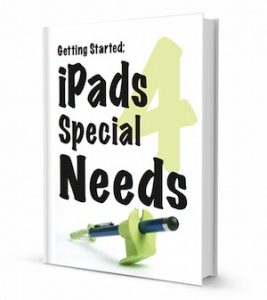 [/column]
[column lg="6″ md="12″ sm="12″ xs="12″ ]
To purchase a hardcopy of the book:
To purchase the e-book:

[/column]
[/row]