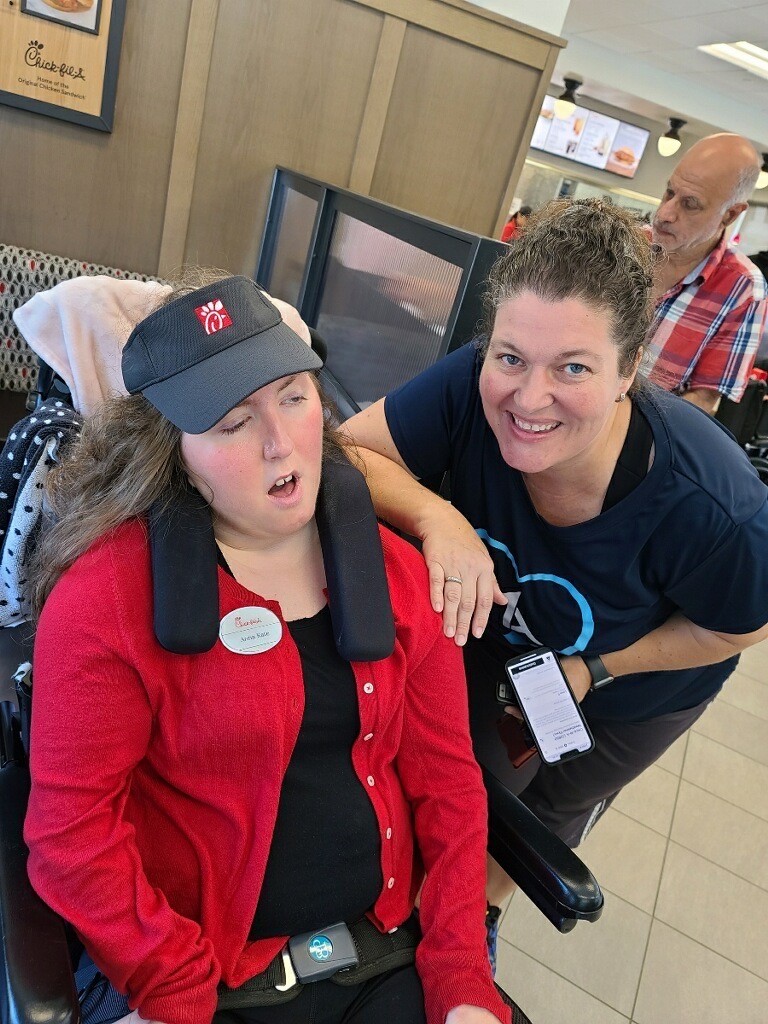 Our annual Father's Day highlight features country musician Cooper Wade and his daughter Anna Kate. Anna is turning 21 and, despite cerebral palsy that severely limits her speech, excels as a Chick-Fil-A greeter, using a BIGmack recorder for assistive technology.
She's also becoming a "public speaker" in partnership with her father, working on a traveling show (geared toward nondisabled audiences) about "How to Include People with Disabilities in your Everyday Life." They're scheduled to introduce a first version of this show on Saturday evening, June 17, at a concert that will also celebrate Anna's 21st birthday.
The rest of this article is directly from Cooper Wade, via virtual interview (June 12) and written communications.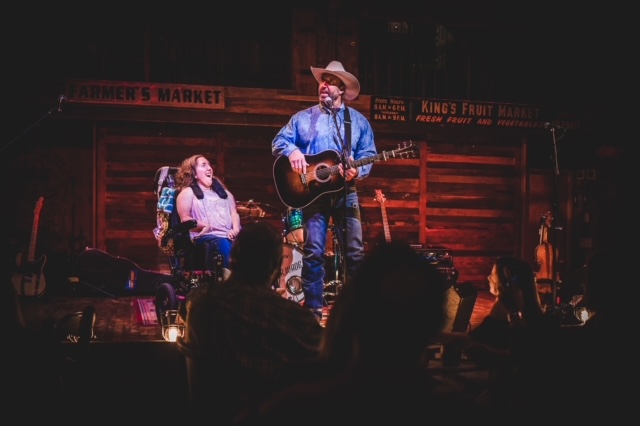 Cooper Wade on Family, Inclusiveness, and the "Everyday Life" Show
"How to Include People with Disabilities" has comedy, music, and honest truth and facts. My goal is that Anna and I drive around Texas doing the show at schools, churches, and other organizations. Anna can communicate to a crowd I can never reach. She can reach kids better than I can, and hearing her "words" come to life is so powerful.
For the birthday bash trial run, we have made a PowerPoint presentation that's all audio banter between me and her, kind of slapstick; she had a friend record her part so "she" really sounds like a 21-year-old girl, not a mechanical voice. We'll be giving public thanks to our longtime supporters, and having a videographer record a short promo as part of our plans for future presentations.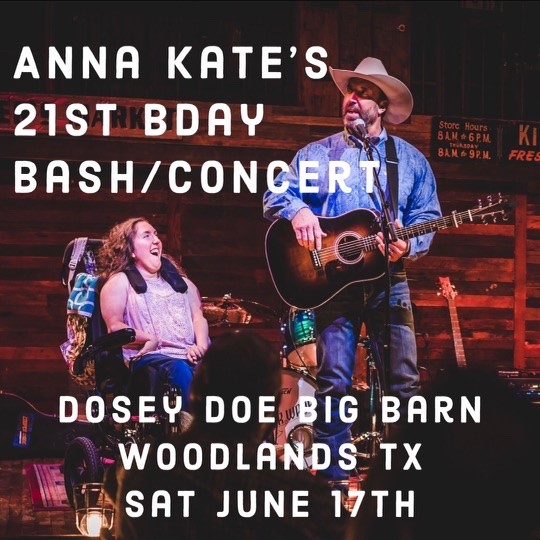 The idea is that Anna will let her real self shine as a representative of the disabled community before young audiences, and help them realize that teens with disabilities see so many "everyday" peer activities they'd enjoy—but often aren't invited to join.
We plan on polling the audiences—like in "raise your hand if you've done this or that adventure"—and explaining how they can include peers with disabilities in these same activities. Also how to adjust and accommodate for different limitations. For Anna, cerebral palsy comes with some vision impairments that make it awkward to use eye-gaze technology, but she has decent gross motor skills and can use her hands for many things. She has good and bad body days like everyone else, of course, but our family will always figure out a way to include her in everything we do. We've never let the physical limitations prevent her from doing as many "normal" activities as possible.
Her mind (and attitude) are that of a typical 21-year-old, so we look for activities that aren't too "kiddy." She's ridden roller coasters, jet skis, horses, and a water slide. For shared activities on hot Texas summer days, we like to go swimming, sit in the hot tub, float on rafts in the pool, even drink margaritas! And on quieter days, there's computer use, social media, TV and movies, games.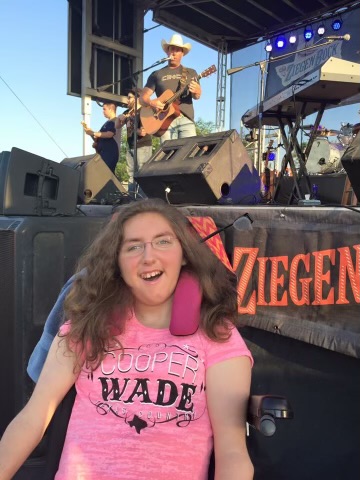 I hope that when we leave future "How to Include People with Disabilities" programs, those campuses will be different for having heard the inside view on living with a disability. And on living with a disability in a family. As a father, I can testify that it's definitely hard work and a labor of love, but there are so many rewards: the bond you have, the intense one-on-one time working through everything together, and the special way of communicating that only you and your child understand.
Cooper Wade's Social Media Handles
Facebook: @cooperwademusic
Twitter: @cooperwademusic
Instagram: @cooperwademusic
YouTube: cooperwademusic