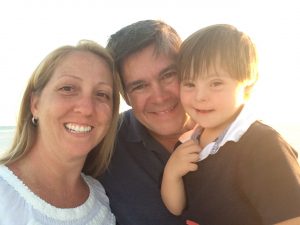 Eli is 3 years old and has Down Syndrome. He loves the iPad! Â He is completely capable of flipping through the screens to find his app of choice,for that moment, and engages independently while asking for help when necessary.
When he was less verbal we used the Signing Times app to practice sign language. Â We also used BrillKids to practice sounds and words. Â We used many other apps for puzzles, color matching, shapes, numbers and even teeth brushing and potty training.
iPad apps have helped get us through a tonsillectomy, a sleep study, and a couple long flights. When Eli was 2 years old I discovered while practicing the alphabet in sign language that Eli not only knew the signs for the ABC's but was very good at written letter recognition.  We had not worked on this, as communication had become our primary focus. I found an app to test him and to my amazement he knew the entire alphabet! That was a very exciting discovery!
When a child is not verbal it is more challenging to know what is going on in their little heads. When you know what is going on you can better maximize opportunities. For our family the iPad has given us a way to know where our child is developmentally, what his interests are, and how we can better help him grow.
Check out this video of Eli practicing his ABC's at 2 years old! Eli is using ABC Alphabet Phonics by Grasshopper Apps:

By Nikki Rutgers, Eli's Mom