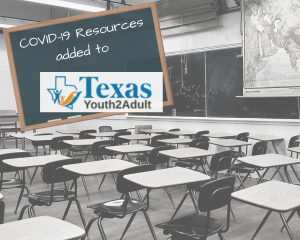 In October of 2018, BridgingApps launched TexasYouth2Adult (TY2A), an interactive tool created to empower youth with special health care needs to grow successfully into adulthood. TY2A was created with input from parents, health care providers, educators, transition specialists, and youth.
Families can use this tool to begin planning early, ask the right questions, and find resources on many areas of life as an adult. If you have not explored the tools in TY2A, there is no time like the present! The website is packed with articles divided into seven different topics: Medical, Education, Social & Recreational, Legal & Advocacy, Financial Management, Independent Living, and Employment. If you would like to share the information about TexasYouth2Adult with friends, caregivers, family, or colleagues, download a printable PDF here.
With all of the uncertainty surrounding COVID-19 and its impact on education, the Texas Education Agency (TEA) has added resources for educators and families on their website. We have added those links to an article in the Education resources of TY2A so that families can easily access them.