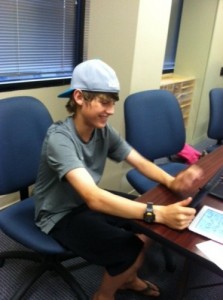 Our Houston group met on 6/13/12. We had a great turn out for the middle of the summer! We started the meeting with introductions and the group consisted of educators, therapists, parents, children (2-16 years) and a deaf education teacher.
Betsy Furler, MS, CCC-SLP presented the app Word Games for Kids: Futaba by InKids. This is a great app for a group. Two to four players can participate. Each players has a choice of four possible answers to each question or picture that pops up in the middle of the screen. The free version of the app has included content for vocabulary development. The paid version is very easily customized for the classroom material or the individual's goals. The graphics are great and the app is very engaging. This app can be used with children from the age of six and up.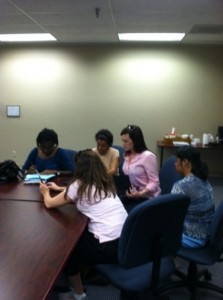 Sami Rahman and Tricia Brinks discussed their presentation at the Texas Assistive Technology Network Conference. They showcased the BridgingApps website and the app search tool Insignio, and it was very well received. Betsy Furler summarized her presentation at the TCEA Tots and Technology Conference. She discussed strategies for using the iPad for inclusion in the classroom.
The group broke up into four small groups. The small groups discussed switches and the iPad (led by parent volunteer Tina), the website and Insignio (led by Sami), apps for young children (led by Tricia) and apps for upper elementary and middle school students (led by Betsy).