A Team Effort: Rudy's Unexpected Journey with Technology
Written By: Cristen Reat
I met Rudy and his wife Andrea in April 2015, when BridgingApps presented on using apps and mobile devices to the St. Luke's Stroke Support Group. Like many attending who were recovering from a stroke, Rudy was interested in how technology could help him, but also overwhelmed by the idea.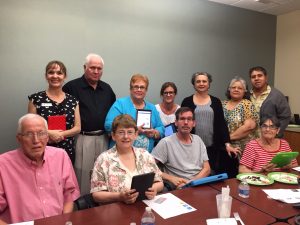 "I was resistant because I thought it was too hard,"  Rudy confides. "After my stroke, I thought learning was over. I really did."  When asked what was difficult for him, he gave the example of reading. Rudy loves to read, but post-stroke the task of reading was not pleasurable as it had been before, just extremely difficult. He would read something, lose his place often and not understand what he just read. It was frustrating and demoralizing.
Wanting to learn more and despite feeling overwhelmed, Rudy and Andrea attended a BridgingApps open house event in the spring, took a tour of the AT&T Assistive Technology lab and asked many questions about how mobile devices might be used. "It would take me a hundred years to learn everything," Rudy declared. I offered to lend Rudy an iPad to try it out for a month at home to see what he thought of it. Rudy was appreciative, but noncommittal and politely declined. I then suggested another option that might be less stressful and invited Rudy and his wife to attend our monthly collaborative trainings at the Apple Store Highland Village. These meetings take place in a distraction-free, low stress accessible room with compassionate, knowledgeable staff.
Rudy and Andrea attended the monthly classes facilitated by BridgingApps at the Apple Store. Though neither of them owned a mobile device, they came eager to learn each month and borrowed different sized devices for the hands-on trainings, including an iPhone, iPod Touch and full sized iPad. We encouraged Rudy to try different sizes and as he did, think about the goals he has for using a device. Did he plan to use it outside the home, did it need to fit in his pocket, does he have vision issues, so a larger screen might be better?
We covered everything from the accessibility features of iBooks, to speak screen, using Siri for shortcuts, calendar and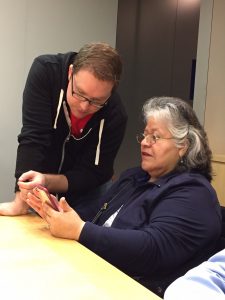 notes apps and how to navigate the basics of the device. Rudy diligently took notes at each class, and Andrea was excited about his interest. Andrea said that she enjoyed the slow pace of the class and the fact that the instructor repeats instructions and simplifies them for participants.
One month in the fall, Rudy's daughter Teresa attended the training together with Rudy and Andrea to see what her parents were up to. They shared a device, asked questions and practiced the various tasks. Throughout this process, Rudy began to relax and said "the whole experience has made me more aware of what my capabilities are. When I experienced the features of iBooks that allows the words to be read aloud to me, sped up or slowed down and highlighted as I go along, that was amazing to me! It really helped a lot, and if I don't understand something or lose my place, with the touch of the screen I can hear it again and again. I feel more confident."
Fast forward to our monthly training in January 2016, where Rudy proudly whips out an iPhone 6 Plus and places it on the table next to his notebook ready to learn. Andrea giggles and puts her brand new device on the table. After class when I asked when they bought their devices, they answered  December, Teresa said 'enough' and bought them for us!"
When I asked how Rudy felt about having a smartphone and what he has been doing with it, he positively glows. "I love it. I read the news, I check the weather, I look at maps, and I FaceTime with my grandson who lives in Brownsville." Rudy shows me a picture of his grandson on his phone that he received through his email. He loves the ease with which he can take high quality photos and receive them with just the touch of his finger.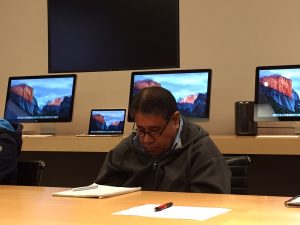 Just to see how far Rudy has come, he and Andrea finish each other's sentences as they gleefully shared the story of their recent technology accomplishment. Teresa was planning to run in the Houston marathon, and they wanted to figure out the route for the race to follow her. They weren't sure how to accomplish this, so they began typing in keywords for the Houston Marathon, found the app, downloaded the app successfully. They spoke with Teresa on the phone, and she was astonished when they told her they downloaded the app and couldn't wait to track her on the route. She asked "You did it yourself?" incredulously. They proudly explained that it was a joint effort!
Next steps for Rudy and Andrea? "We love the classes and will continue to come. We are grateful for all that we have learned." Andrea chimes in "The other day I heard piano music, and there he was playing the piano using Garage Band." Rudy laughs and adds "I love music and majored in it in school, so I discovered this app. It is fantastic."
Having watched this journey unfold and observing Rudy's initial excitement, fear, hesitation, followed by determination and courage, it has been a privilege to get to know Rudy and his family. Andrea mentions that this technology has opened up new horizons for Rudy that have surprised and delighted her. "I didn't think he was capable," Andrea reveals, "and he has surprised me so much."
"I really can learn again," says Rudy with tears in his eyes.
Rudy and Andrea's favorite apps:
Notes
Reminders