Tech Tips for a Jolly Holiday 🎄
Parenting Special Needs Magazine and BridgingApps collaborated for a special smart home holiday feature. Smart home technology makes life easier for users of all ages and abilities – and it's fun! Build your smart and connected home with Google Nest home automation system including smart displays, doorbells, thermostats, wireless speakers, smart light bulbs, and more. Start with Nest Hub, the center of your home. With just a tap or your voice control thousands of compatible smart devices from one central location. Perhaps your child has difficulty walking unassisted and you would like them to be able to control their lights or fan independently? Or, they would like to watch tv or listen to music? Smart home technology allows them to control their environment from the safety of their bed or favorite chair.
Check out the full article in the November/December 2021 Parenting Special Needs Magazine article. And, be sure to subscribe to receive a free copy of the magazine.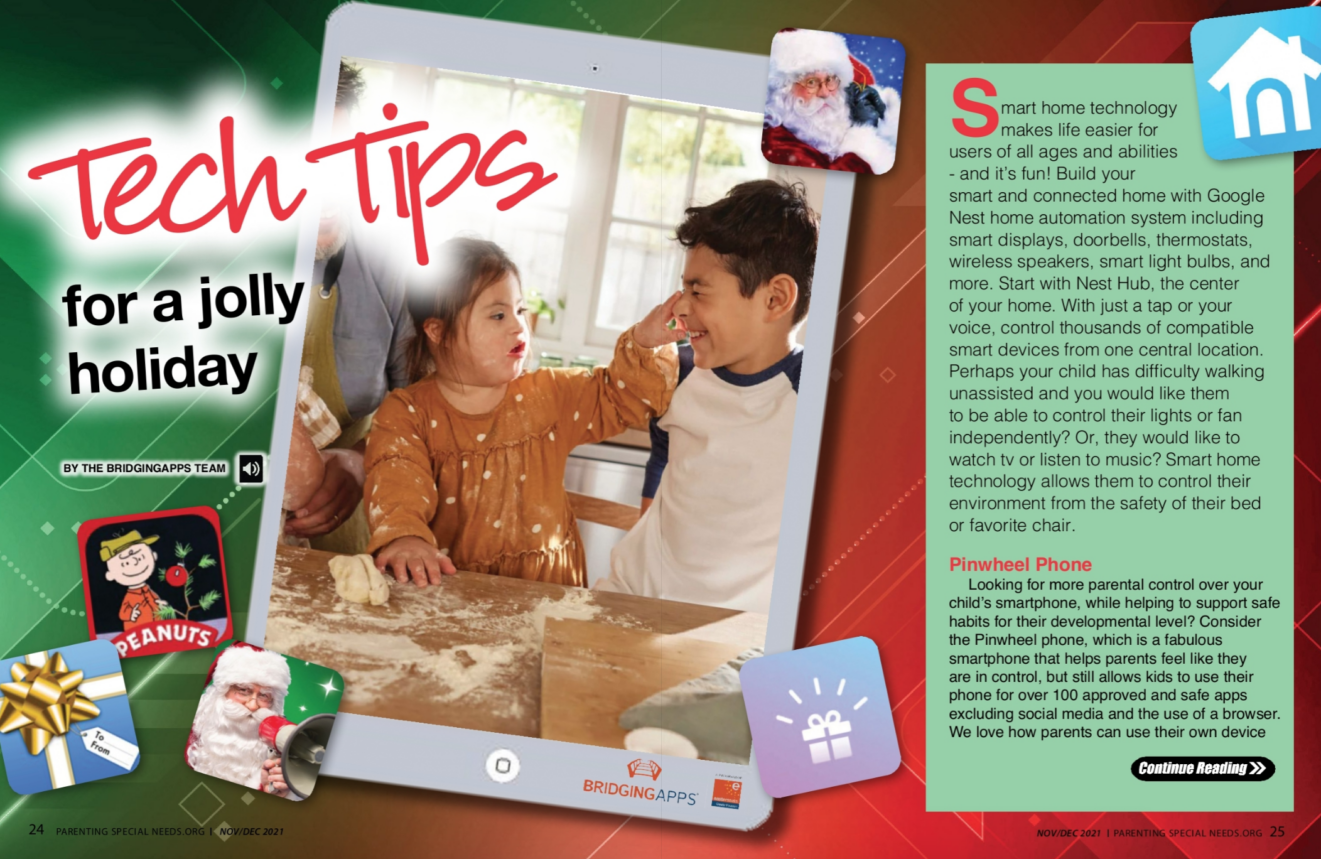 Plan to join us virtually Wednesday, December 1, 2021 from 12:00 – 12:30 pm. We'll be sharing our favorite tech tools in our next lunch and learn to round out your holiday shopping list. Check out our latest article in the Parenting Special Needs Magazine, Tech Tips for a Jolly Holiday, where you can get a sneak peak or be ready to share your own finds in our upcoming lunch and learn. You can also find some fun, holiday apps as well in the article.
Lunch & Learn With BridgingApps 🥗📱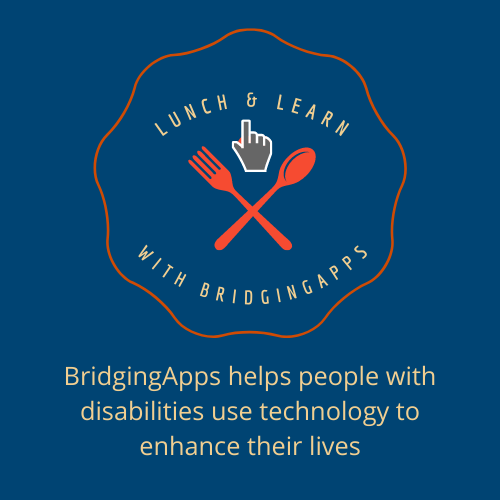 In our popular Lunch & Learn series, we have explored topics such as:
Creating shopping lists using Alexa
Using apps such as "Speechify" to have text read aloud
Managing calendars and sharing across people and platforms
Keeping up with task lists for productivity using various "notes" apps
Tracking features on apps and devices
Parent Controls and Internet Safety
Mark your calendars and plan to join us virtually on the following dates:
Wednesday, December 1, 2021 – Tech Shopping with Our Holiday Gift Guide
Wednesday, December 15, 2021
Wednesday, January 5, 2022
Wednesday, January 19, 2022
We are in the process of planning out more great content and will update the topics here, once we have them set. In the meantime, we wanted you to be able to get the date on your calendar.
Feel free to share this with a friend and join us for our next Lunch and Learn to find out all about it.
Please note, as always this session will not be recorded. We want everyone to feel comfortable, so we don't require cameras to be turned in. We will be using the chat to make it more interactive and welcome your comments and questions. Our small group meets every other week on different topics, but it might vary some with holidays.
We are always looking for new topics, so feel free to make a request as we schedule out next year's topics.
We hope that you will join us for these FREE events!
Digital House Calls Course 🖥
BridgingApps has published a free Digital House Calls course on Udemy.
Digital House Calls: A Step-by-Step Guide for Telemedicine Visits is a free course for seniors and caregivers of persons with disabilities. It is a how-to training designed to increase access to virtual health platforms and to prepare the learner to maximize their telemedicine experiences.
This is a self paced course with repeatable lessons. Content includes lessons on technology set-up, medical and health readiness, privacy and security, troubleshooting basics, setting up the space for a virtual health visit, utilizing a patient health portal and more.
Each lesson includes direct links to further and more detailed video tutorials aligned with the content to support each learner's individual situation and needs.
When the course is completed, the learner will have an individualized readiness plan for before, during, and after a telemedicine visit. This readiness plan serves as the learner's personalized guide to successfully connect them to their health care providers and to optimize their virtual medical and health experience.