You can hardly browse the internet or watch tv without seeing an ad for some kind of new smart home gadget. Sure, they are convenient for those of us who are forgetful (or maybe just lazy sometimes), but we love these gadgets for another reason: They offer the promise of increased independence for so many of our clients! What if you cannot get up and cross the room to turn on the tv or a lamp? Did you know that smart plugs paired with an Echo Dot or Show, Google Nest, or Apple HomePod device can allow you to control appliances using your voice? All of these smart speakers and their assistants can perform similar tasks, so choosing the right one for you might be as simple as thinking about devices you already have at home. Are you strictly an iPhone or Mac user? You probably need the HomePod. Do you only use Android phones equipped with Google? You might want to go with the Google Nest. Maybe you are an Amazon Prime Member and want the ease of shopping, listening to books using Audible or music using Amazon Music. Then the Echo Dot or Show is for you. Read below to learn more about these devices.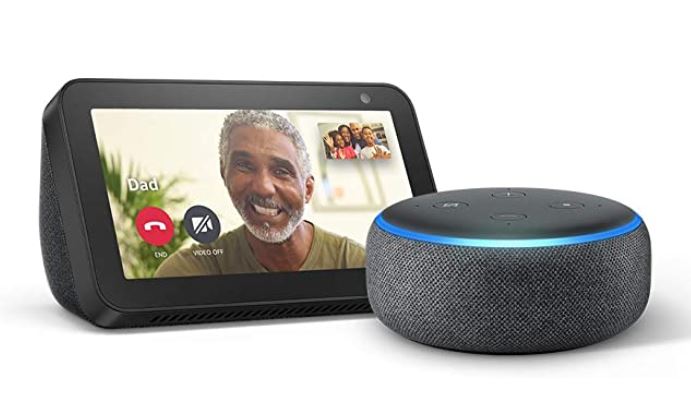 Echo Dot and Echo Show
Amazon currently offers two main types of smart speakers. The Echo Dot is a small round speaker that takes up very little space on a table or shelf (and can even be perched in a mount on the wall) which allows voice input and output. The Echo Show is a device which has the same speaker features of the Dot (voice input and output) along with a screen and an outward facing camera. The Show is currently available in 3 different screen sizes, ranging from 5″- 10″, and allows for even more accessibility options for users who may be hard of hearing as it allows for on-screen captioning of Alexa's responses. The camera can also be used for tasks such as video calls and even to help identify products. Someone who is visually impaired and has difficulty reading details about a product, say for instance, a box of cereal, could say, "Alexa, what am I holding?" and she will describe the item. Both of the devices allow Alexa to answer questions, tell jokes, read you the news of the day, remind you of upcoming tasks, and much more. For more information about Echo devices and Alexa, visit https://www.amazon.com/b?&node=9818047011&ref=ODS_v2_FS_AUCC_category.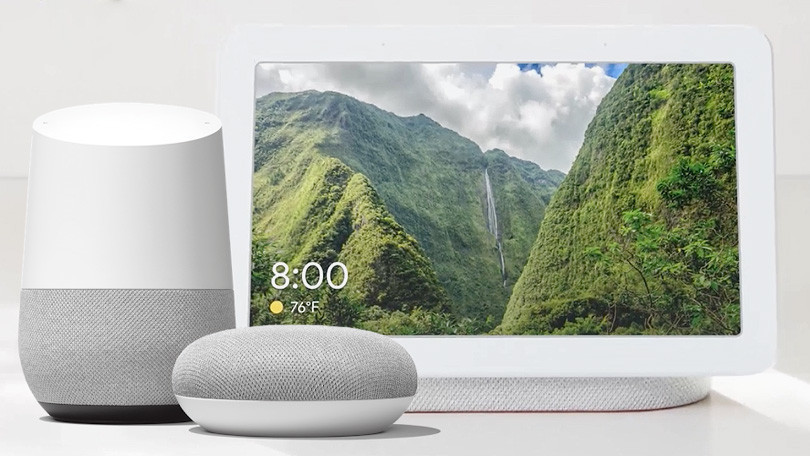 Google Nest
Google Home …. "Hey Google,… " The Google Nest offers many great features including the ability to make phone calls and broadcast messages to other devices using just your voice. The Nest devices with display screens also allow you to make and receive calls using Google Duo and play music and podcasts or select a movie or adjust the volume on your connected TV. The Nest speaker or display devices can each be used to manage tasks and routines and can even be synced with your Google calendar!
For more information on how Google Nest works, visit https://store.google.com/us/category/connected_home?.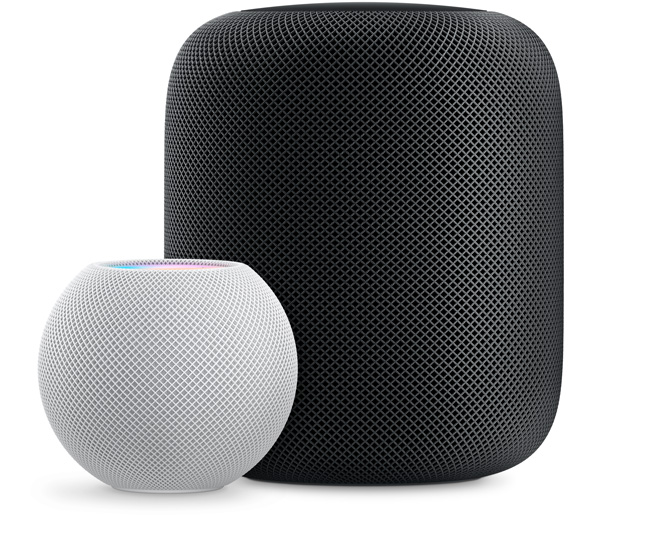 Apple HomePod and HomePod Mini
Apple HomeKit, the suite of tools that Apple offers to make your home a smart home, works by using Siri. Siri "lives" on all Apple devices, so you can use your iPhone, iPad, or Mac to control your HomeKit. Apple also now offers the HomePod, a smart speaker, to serve as the hub for Siri to control your home without using your mobile device.
For more information on how Apple HomeKit works and available accessories, visit https://www.apple.com/ios/home/