Cases
Many of our clients are hesitant about handing over an expensive device that is basically made of glass and metal to a very young child or a person who has balance and coordination or fatigues easily and may drop it. Our number one piece of advice when buying a tablet is to get a good, protective case. There are many options out there in a range of prices. Here are just a few of our favorites: Big Grips Cases for iPad come in fun colors and are great for children because they are well cushioned for little hands, heads, and whatever else may knock into it. BobjGear Cases come in a variety of fun colors and are also protective but are not as thick and bulky looking, making them appropriate for users of all ages. Finally, a Survivor All-Terrain case might be the perfect fit for that teenager or adult that needs a protective case without all of the bright colors of some of the other brands. These also come with straps that can be connected and worn over the shoulder or cross-body style to keep tablet close by.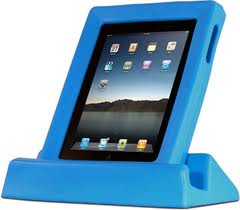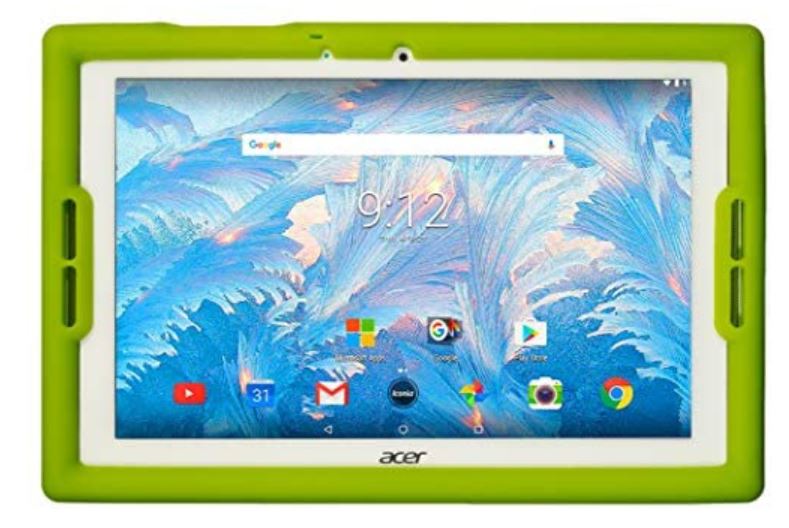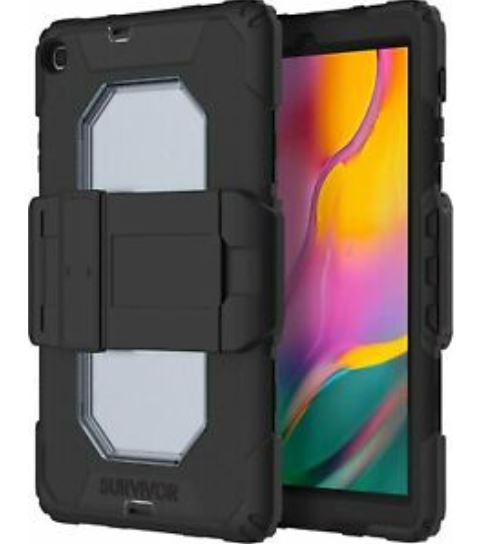 Big Grips Cases for iPad
BobjGear Cases
Survivor All-Terrain
Stands
How about a multi-functional stand that can hold your tablet under a cabinet, wall, or can stand on any table or desktop? Or maybe you need a tablet holder on wheels that can be moved from room to room and adjusted for different heights? And we all love (and need) space savers! So why not have a tablet stand that easily folds and can be put out of the way when not in use? Another great space-saving option is the Tablift. It is a tablet holder with bendable legs that can be used while sitting in a chair, on the couch, or on the floor and even while lying in bed! There are even tablet holders like the Ontel and the Flippy that are really a comfy pillow for your device.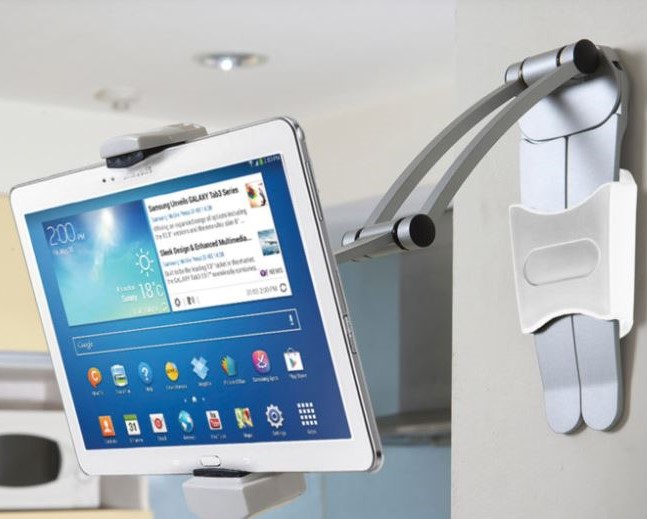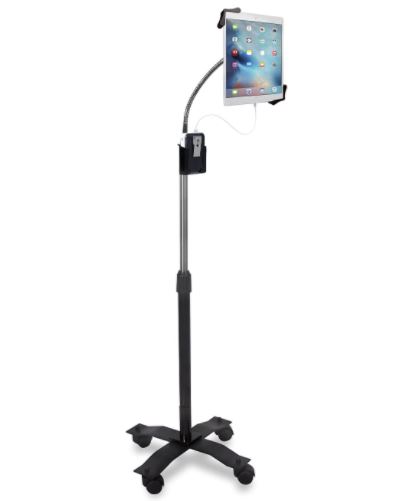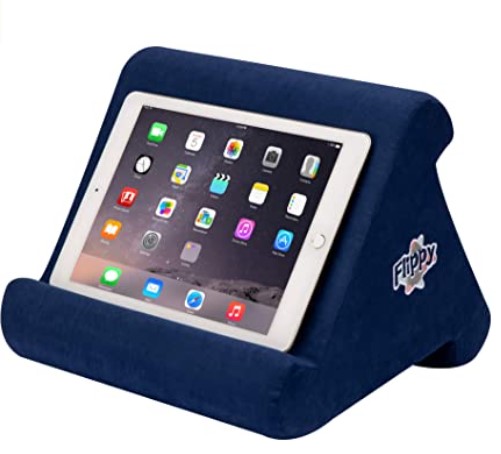 Multi-functional stand
Tablet holder on wheels
Tablet holder pillow
Mounts
Mounts are a convenience for some- they can keep your tablet at the same level and remain still while watching a movie or video or prevent it from being knocked off of a countertop or table. For others, mounts are a necessity in that they allow the user to interact with others using technology by having their device securely mounted where they need it at all times. Users who are non-verbal and also use a wheelchair for mobility may need a mount to hold their eye gaze communication device at the perfect level in front of them. Below are some popular options for different needs, click on the link below each picture to learn more about them. You can also check out other mounting options as well as technology accessories at AbleNet, RamMounts, and RehabMart, just to name a few.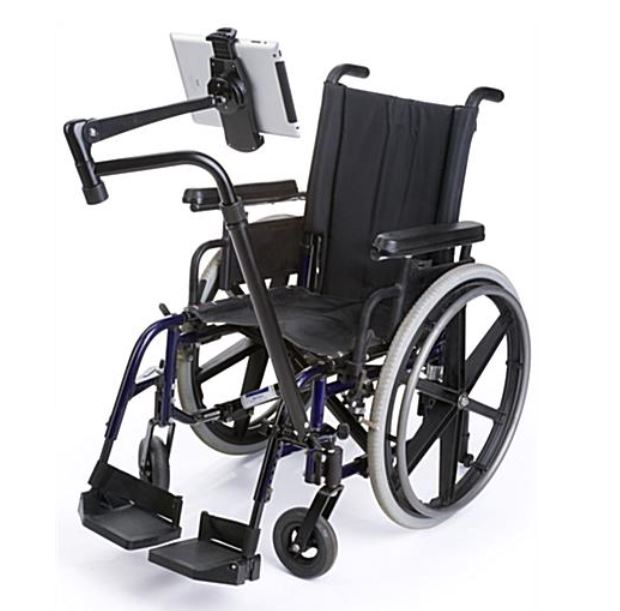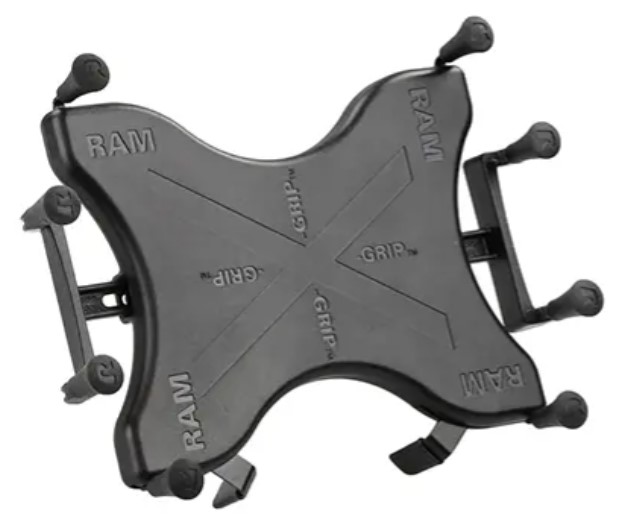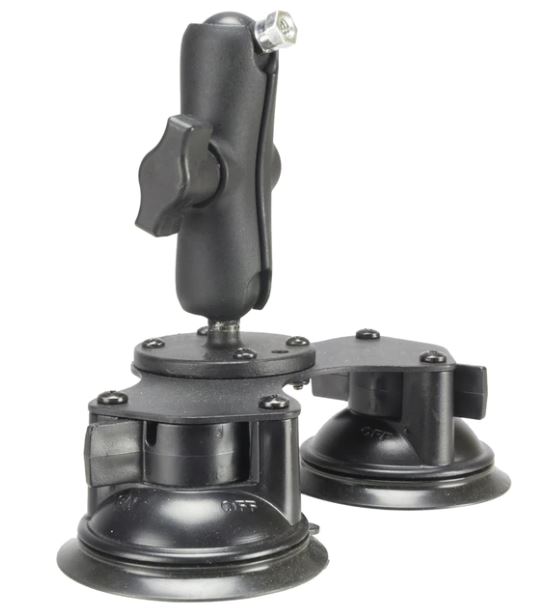 Wheelchair Mounts
Tablet Holders for Mounts
Suction Cup Mounts
Styluses
A stylus is a pen-like tool with a soft end (usually made of rubber or foam) that can be used in place of your finger on touchscreen devices. There are many reasons someone may decide to use a stylus, such as better control if you are writing or drawing or better control when pointing or tapping a small space on the screen. Styluses have come a long way from the basic pen-like tools first created to now coming in a variety of shapes and purposes depending on the user's needs and abilities. Is it hard to grip small, slim objects for an extended period of time? Maybe you need a stylus like the ShapeIt Finger Stylus or the ShapeIt Flex Stylus from ShapeDad or the Easy Flex Stylus from Enabling Devices. There are also options like this Adjustable Touch Screen Stylus that allows users to strap it onto their hands or use with their mouth. Sometimes users just need a larger pen-shaped stylus that is made of softer material or one with a cushioned finger grip? Try the Cosmonaut Wide-Grip Stylus or the Ergo Stylus w/ Original Grip from Special Needs Essentials.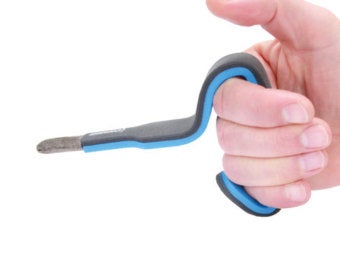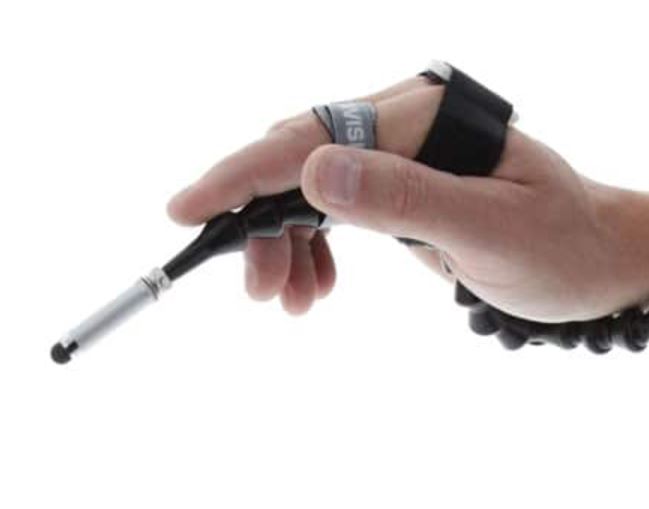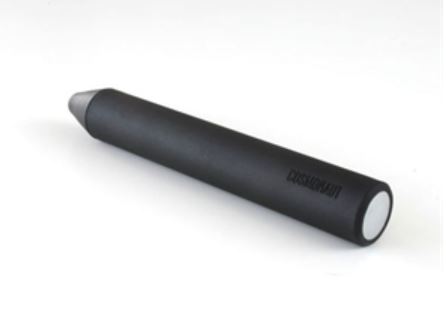 ShapeIt Finger Stylus by ShapeDad
Easy Flex Stylus
Cosmonaut wide grip stylus
Keyboards
There are many types of keyboards to accommodate different needs that connect to your tablet using Bluetooth technology. It is important when buying a keyboard to be aware that some of these may be designed to work only with iPads or iPhones and some only with Android devices. Some keyboards, such as the Logitech Bluetooth Multi-Device Keyboard pictured below, are made to work with Android and Apple tablets. Check out the product details when shopping for which devices it is meant to be used. As far as options, there are standard print and large print keyboards, which are often also available in yellow or white keys with black numbers to help those with visual impairments that not only need larger symbols, but also a different level of contrast. An example of these is the Large Print Bluetooth Keyboard pictured below. There are keyboards that are part of the case such as the Jelly Comb Wireless Keyboard Case or the Universal Folio by Logitech that works with Apple, Android, and Windows Tablets.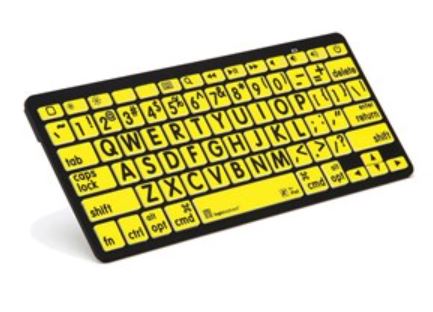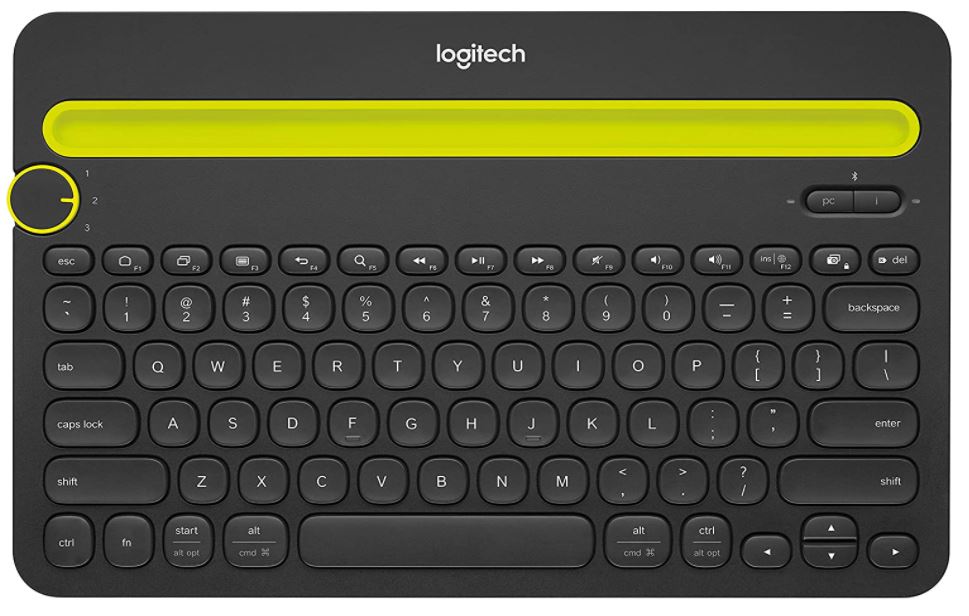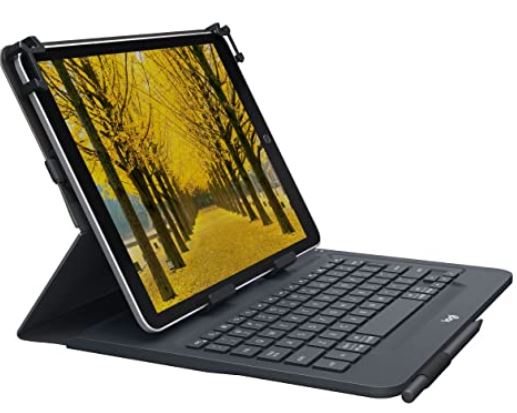 Large Print Bluetooth Keyboard for iPad
Logitech Bluetooth Multi-Device Keyboard
Universal Folio for Android, Apple, & Windows
Other Accessories
There are many types of accessories that can help make a mobile device more user-friendly and more productive. How about headphones that connect to your device without cords using Bluetooth technology? They are available in different styles for fit, including over the ear with cushioned ear cups (like these by Anker), in the ear canal, a combination of both with an in-ear canal piece and a hook that fits over the ear to secure it, or even as a comfortable headband, like the CozyPhones. These come in fun styles and colors for kids, but also options for teens and adults. Another accessory that started as a trend for teens has become a must-have for many older adults or people of any age who easily fatigue or have hand cramps when grasping a device for long periods of time. This small gadget, made popular by the brand Popsockets, is a disc that sticks onto the phone or tablet . There are now many similar types of grips and rings, most (like this Lamicall Cell Phone Ring Holder) function as stands also, that either stick onto the phone or are built into the case to make holding the device more comfortable or to allow you to prop the device at the angle that works for you. The Scanner Bin is a nifty gadget that makes scanning with your phone easier than ever. The scanner bin allows you to place your phone on top of the box and the document to scan inside of the box, eliminating shaking hands or cutting off part of the document as well as those annoying shadows from overhead lights during scanning. It is affordable (around $10 at the time of this writing) and folds when not in use for easy storage.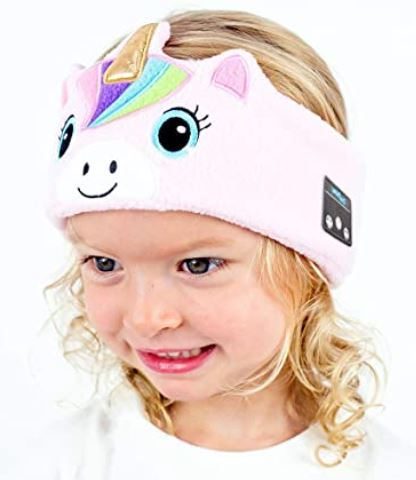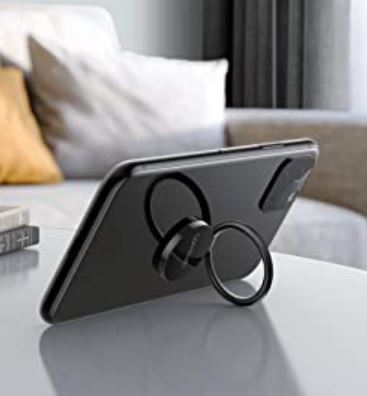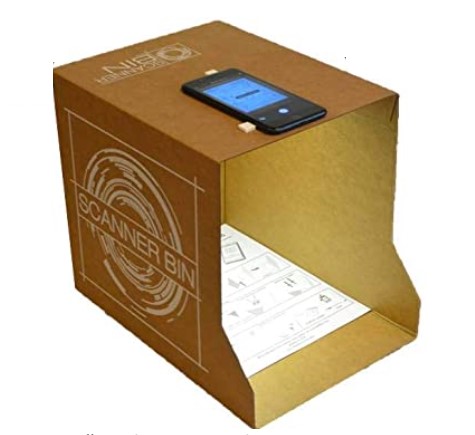 CozyPhones Bluetooth Headphones
Lamicall Cell Phone Ring Holder
Scanner Bin