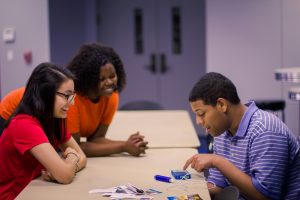 We are excited to announce that BridgingApps has collaborated with UnitedHealthcare to help provide mobile device applications, or apps, to assist families with children who have special health care needs in Texas. BridgingApps' free website houses a database of apps reviewed by speech pathologists, occupational therapists, psychologists, special education teachers and other professionals.
"With the rise in smartphone and tablet ownership across social and demographic groups, we see great potential for people with special health care needs to leverage this technology to be more involved in their own health care," says Cristen Reat, BridgingApps Co-Founder. "Especially children and teens, who are naturally engaged by smart devices, can learn important skills such as medication compliance, emotional regulation techniques and better understanding their diagnoses."
Beginning November 1, 2016, qualified UnitedHealthcare Community Plan of Texas STAR Kids members will receive a gift card to purchase apps from a comprehensive list of apps selected by BridgingApps. These apps are designed to help parents, caregivers and families nurture skills such as communication, managing health information, social interaction and motor skills training.
Members click here to get started: http://staging.bridgingapps.org/home-new/unitedhealthcare-star-kids/