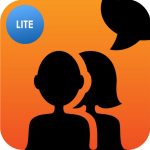 BridgingApps just published the following BridgingApps Featured App on the site:
Avaz – Free AAC App for Autism is an augmentative communication app for non-verbal children with autism. Avaz's user interface is designed to make speech therapy more effective, develop a user's language, and improve his/her intent to communicate.
The Lite version gives the user a 7-day free trial to use the app and access to its 15,000 symbols. This free trial may help a therapist, teacher or parent see if it meets a particular child's needs before having to purchase the entire app. The complete app can be purchased for $199.99.
Click on the link below for full review:
https://search.bridgingapps.org/apps/7e0ad487-535e-7e8c-f786-4824f8efa1ea